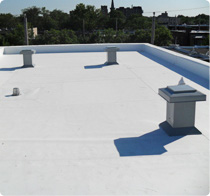 Single-ply membrane roof covering (TPO)

Firestone Ultraply TPO is a thermoplastic polyolefin membrane consisting of non-vulcanized ethylene propylene rubber in a polypropylene matrix. This high-strength membrane combines the durability of an elastomer with the weldability of a plastomer.
White roof

White roofs are energy-saving, reflecting sunlight and lowering indoor temperatures. Plus, the higher-quality membrane will prolong the lifespan of your roof.

LEED-certified and other green roof solutions

To obtain LEED certification, a building must obtain one of several minimum scores depending on the level of certification. Our roofing products and systems can help builders secure LEED certification.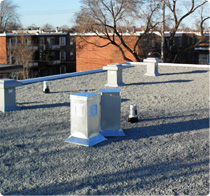 Multiple-ply asphalt-and-gravel membrane roofing
A multiple-ply asphalt-and-gravel membrane roof covering consists of several layers of No. 15 roofing felt paper impregnated with hot asphalt. The multiple layers ensure the integrity and watertightness of the membrane, and the solution is much more affordable. An asphalt-and-gravel finishing layer is then added on top of the membrane. We can also lay white gravel on top: this offers superior reflective characteristics, and will reduce damage caused to your roof by sunlight, while ensuring cooler temperatures inside your home. You'll help reduce the urban heat island effect, and won't have to worry about your roof for years to come.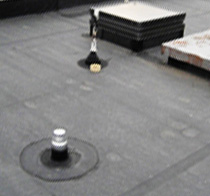 Single-ply membrane roof coverings (EPDM, PVC)
EPDM is a more frequently used synthetic rubber compound with high energy efficiency and is often used for single-ply roofing installation, as it is easily available and relatively simple to apply.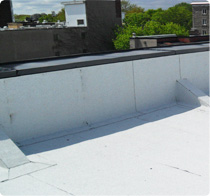 Elastomeric membrane roof coverings

An elastomeric membrane offers superior resistance and a better seal for a more durable roof covering, as well as optimizing energy savings and reducing the amount of environmentally harmful waste produced. The latest elastomeric membrane installation techniques considerably reduce toxic waste emissions as well as ensuring optimal watertightness for your roof. You'll increase the lifespan of your roof thanks to a superior-quality membrane.